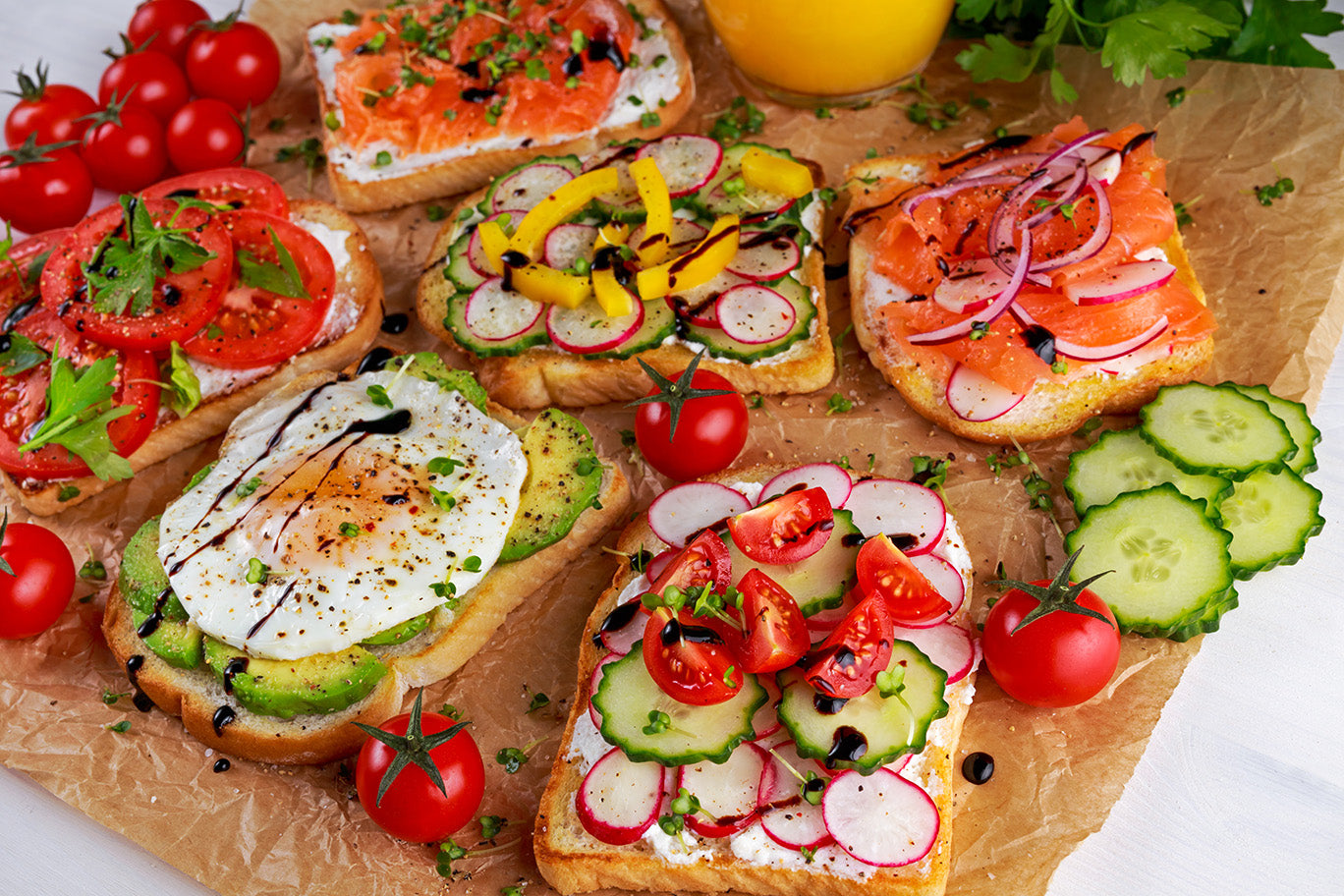 "Toast Your Way!" (Easy Breakfast/Snack)
We're going back to the basics with this one, so let's talk about TOAST!  Whether you grew up eating toast as a kid for breakfast or still do now!  The game has changed from the days of butter-bread-and-jelly! 
Creamy avocado spread onto well-toasted bread (Rye is our favorite) is one of our favorite quick meals. It's so delicious, call it one of life's simplest pleasures.  There are also sooo many variations of toast! Smoked salmon, tomato, cucumber, fruits and even eggs!  These all make a great breakfast or a snack for anytime during the day!  
Unusual pairings to get you started below!  Then let your imagination run wild! Don't be afraid to mix flavors you've never had before!  You'd be surprised which flavors mesh well with others!
All these pairings below start with toasting sliced bread of your choice and then a drizzle of the recommended balsamic:
(From Main Image Above:)
NOLA Blends Raspberry-Ginger Balsamic, Cucumber, Radish, Cream Cheese
Popular Pairings
NOLA Blends King Cake Balsamic, Watermelon Radish, Soft Cheese
NOLA Blends Plum Balsamic, Watermelon, Thyme, Soft Cheese
NOLA Blends Grapefruit Balsamic, Sliced Avocado, Fresh Cracked Pepper
Other Unusual Pairings:
NOLA Blends Dark Chocolate Balsamic, Strawberry, Banana, Goat Cheese
FANCY PARTY DISH:
Have your own recipe????  Send us your creations so we can feature you and your recipe on our website! 
Send here:
info@nolablends.com or on social media @nolablends
#nolablends #nolablendsrecipe