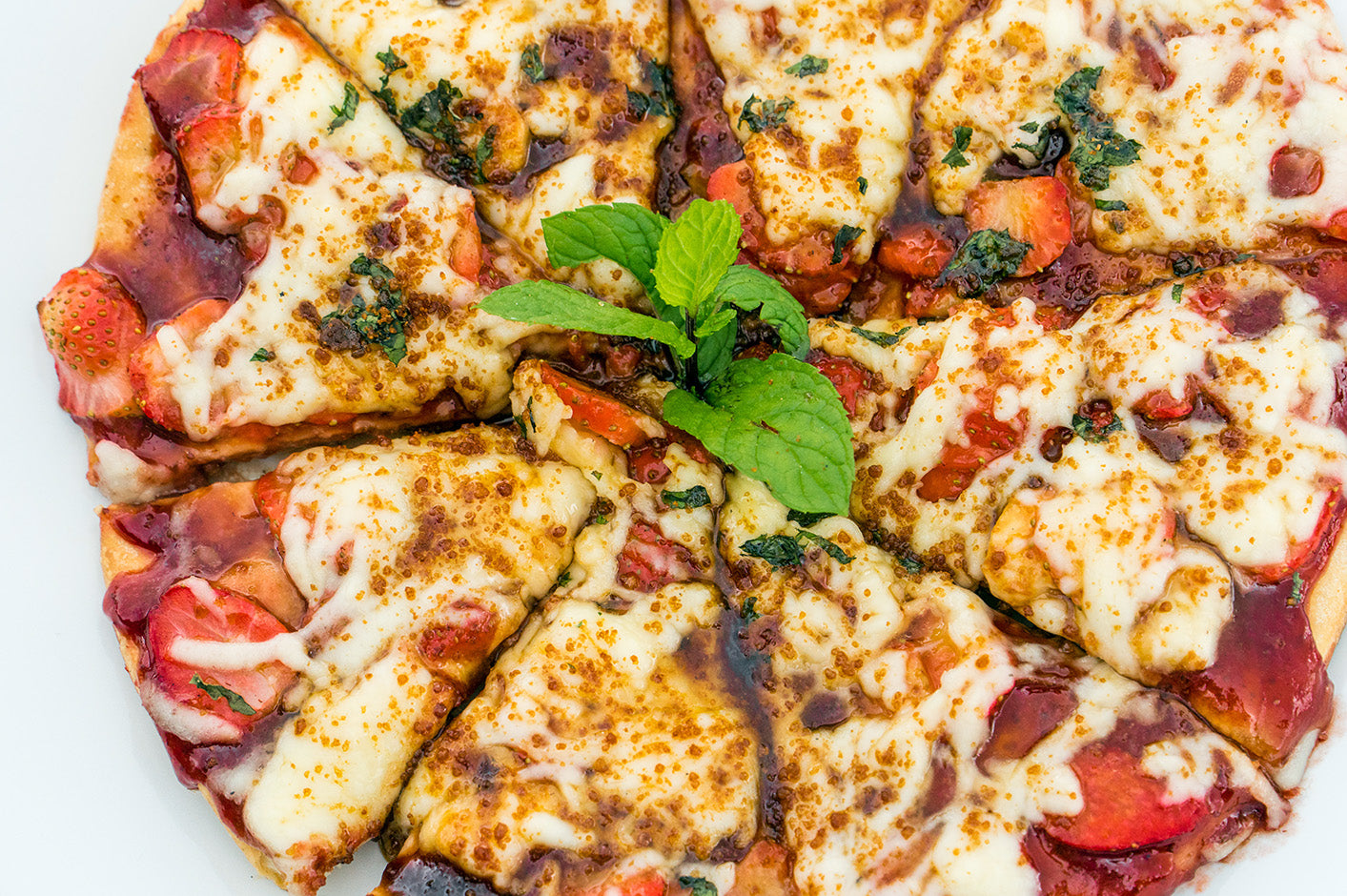 Strawberry, Basil and Balsamic Pizza
Strawberries roasted on top a mozzarella and goat cheese pizza, topped with fresh basil and a drizzle of Strawberry Balsamic. Ya'll, this pizza is a revelation!
(PRO TIP:  You can use almost any fruit and balsamic combination, ie Raspberry and mint)
INGREDIENTS
Pizza
16 ounce

s prepared whole wheat pizza dough

1 ½ cup

s (

6 ounce

s) shredded mozzarella

5 ounce

s goat cheese

1 ½ cup

s (about

 

½

 

pound) chopped strawberries, leafy ends removed and sliced into ¼-inch thick rounds

1 tablespoon

 

fresh basil, chiffonade into short little strips
freshly ground black pepper

¼ cup

 

balsamic vinegar
INSTRUCTIONS
Preheat your oven to 350 degrees Fahrenheit.* Roll out your pizza dough into a 12 to 14-inch round on a floured surface. Top the pizza dough with the shredded mozzarella, big crumbles of goat cheese, and strawberries. Bake on a lightly oiled baking sheet (or on a pizza stone, if you have one) until the cheese is bubbling and golden and the crust is crisp underneath, about 35 to 40 minutes.
Meanwhile, warm the NOLA Blends Strawberry Balsamic. In a small saucepan gently simmer on medium-low heat until it is warm (Not bubbling) and set aside. (NOTE:You can skip this and just drizzle directly onto pizza if you store at room temp)
Once the pizza is done baking, top it with a sprinkle of basil and freshly ground black pepper. Slice it and use a spoon to lightly drizzle balsamic vinegar on top, as shown in pictures. Serve!