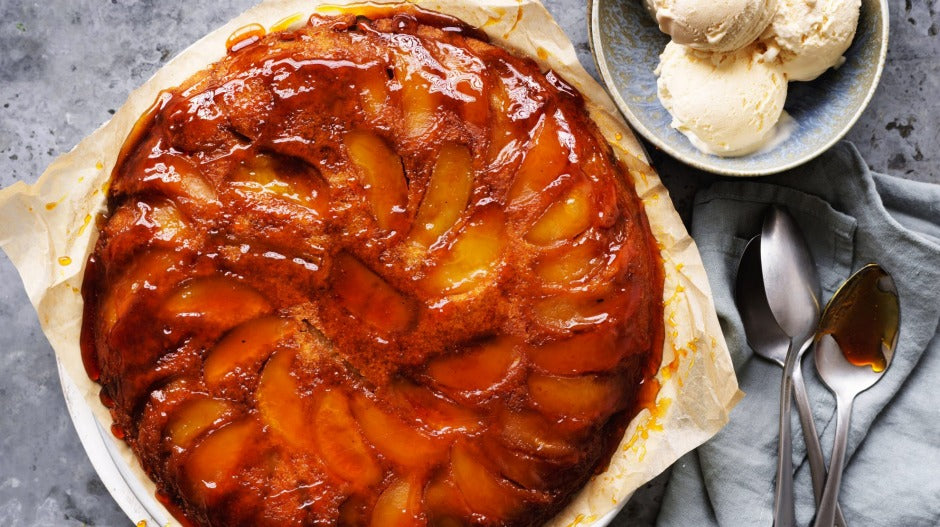 Southern Sour Apple Upside Down Cake
| | | | |
| --- | --- | --- | --- |
| Prep Time | 15 min | Course | Dessert |
| Cook Time | 1hr | Servings | 8 |
Ingredients
2 Granny Smith apples, peeled, quartered, core removed
1/4 cup brown sugar
3/4 cup white sugar
1/2c butter (1/8c chopped, 1/3c melted)
1/4 tsp salt 
1 cup self-raising flour
2 tsp ground cinnamon
2 eggs
1/2 cup milk
1 tsp vanilla extract
2 tbsp Southern Sour Apple Balsamic
Blue Bell Homemade Vanilla vanilla ice-cream, to serve
Directions:
1. Preheat your oven to 350.
2. Cut each apple quarter into quarters again to create 16 slices for each apple.
3. Heat 1/4 cup brown sugar in a 10" ovenproof frying pan over medium-low heat. Swirl the pan so the brown sugar covers the base and warm, about 2 minutes.
4. Add 1/8 chopped butter and half the salt, swirling the pan until the butter melts and combines with the sugar.
5. Add the apples and 2 tbsp of NOLA Blends Southern Sour Apple Balsamic cook for 2 minutes each side, then turn off the heat. Using tongs, arrange the apple pieces into a radial pattern in the pan. Set aside.
6. Combine remaining 3/4 cup sugar, flour, cinnamon and remaining salt in a large bowl.
7. Whisk the eggs, milk, vanilla extract and 1/3 melted butter in a separate bowl. Make a well in the centre of the flour mix and pour in the milk mixture. Whisk until just combined.
8. Pour the batter into the pan, then bake in the oven for 15 minutes or until golden and cooked through when tested with a skewer. Remove and allow to cool for 10 minutes.
9. Turn the cake out upside-down and serve with Blue Bell Homemade Vanilla ice-cream.
10. Optional: Finish with a drizzle of NOLA Blends Southern Sour Apple for a wonderful treat!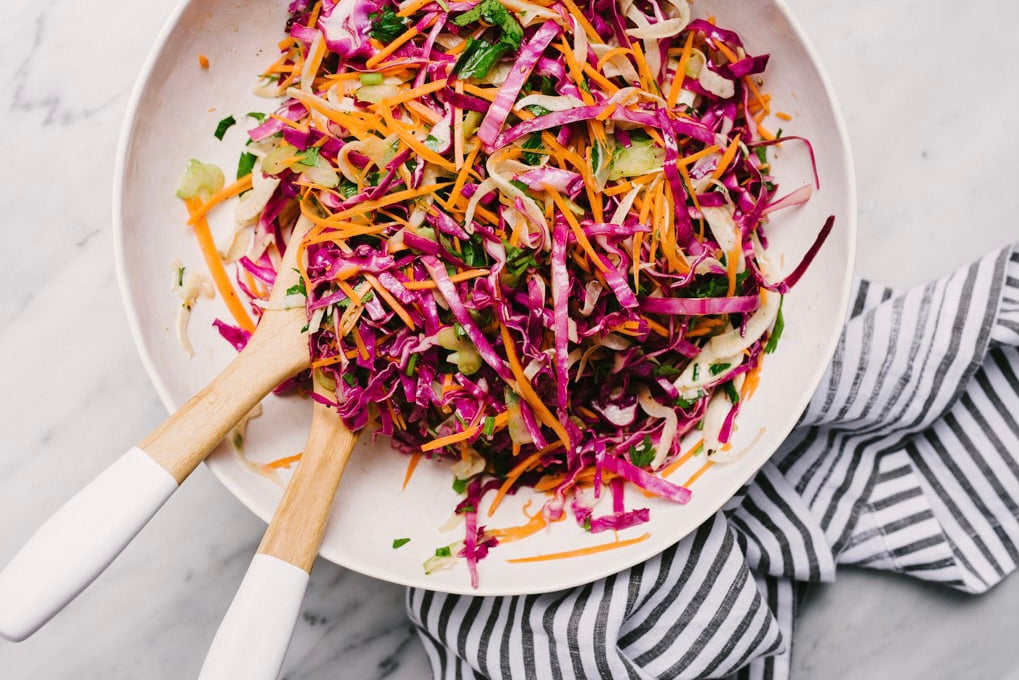 Easy Side
Prep Time 15 min Course Side Cook Time 0 min Servings 6 Description: This Southern Sour Apple Balsamic coleslaw is the perfect flavor combo to showcase the sweet and...
Read more