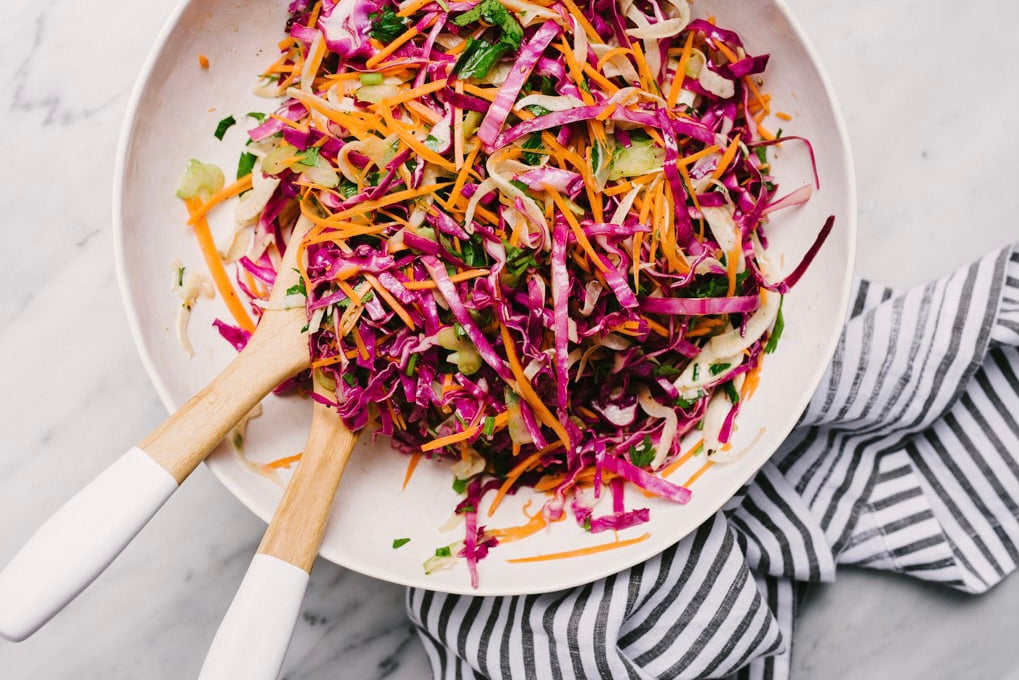 Southern Sour Apple Coleslaw
| | | | |
| --- | --- | --- | --- |
| Prep Time | 15 min | Course | Side |
| Cook Time | 0 min | Servings | 6 |
Description:
This Southern Sour Apple Balsamic coleslaw is the perfect flavor combo to showcase the sweet and sour of the apple and earthiness of the cabbage along with a deep balsamic vinegar taste and a great crunch from the fresh ingredients!
Ingredients: 
4
cups
cabbage
thinly sliced
2
cups
purple cabbage
thinly sliced
1
carrot
cut into matchsticks
2
green apples
cut into matchsticks
2
Tablespoons
green onions
sliced
1/4
cup NOLA Blends Sour Apple
 Balsamic
1
Tablespoon
Dijon Mustard
1/2
teaspoon
Salt
1/2
teaspoon
Pepper
1/4
cup
NOLA Blends Meyer Lemon EVOO
Directions:
In a large bowl, combine green cabbage, purple cabbage, carrots, apples and green onions. Toss well and set aside. In a separate bowl, add NOLA Blends Southern Sour Apple balsamic vinegar, mustard, salt, and pepper. Whisk together. Whisk in NOLA Blends Meyer Lemon olive oil until completely blended and thickened. Pour over apple slaw mixture. Stir well. Cover and refrigerate for 1 hour before serving. Enjoy!