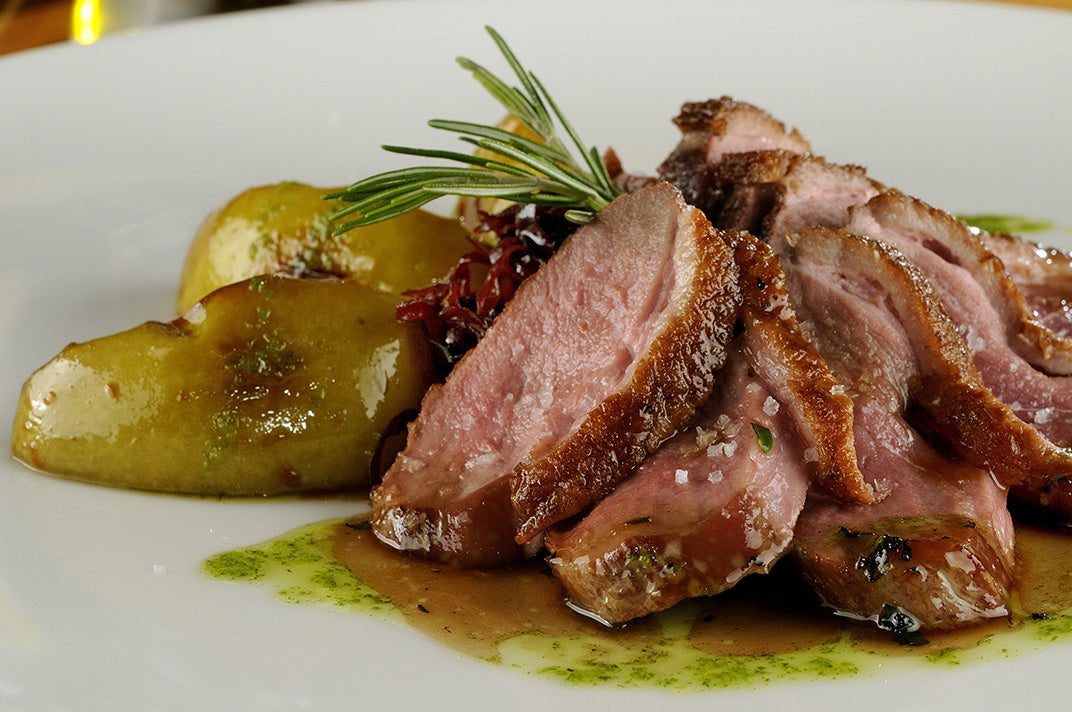 Pan Seared Duck Breast w/ Caramelized Apples
Ingredients
4 Duck breasts
Salt and freshly ground black pepper
1/4 cup extra virgin olive oil or NOLA Blends Blood Orange Infused Olive Oil
1/4 cup  honey (pref local wild honey)
2 tablespoons unsalted butter
2 tablespoons of NOLA Blends Sour Apple Balsamic
1 teaspoon vegetable oil
4 Granny Smith or Fuji apples, peeled, cored, and cut into 8 sections each
2 tablespoons sugar
2 pounds spinach, stemmed, rinsed, and patted dry
1/4 cup fresh thyme or rosemary leaves, for garnish


Pierce the skin on each duck breast lightly with a fork. Turn over and season the meat with salt and pepper.


Heat 2 tablespoons of the olive oil in a large ovenproof sauté pan over medium-high heat until it ripples.

Place the breasts, skin-side down, in the pan and cook. Using a spatula or tongs, lift the breasts every minute or so to keep them from sticking. As duck fat builds up in the pan, use a spoon to remove the fat and maintain the original oil level.

Cook until the skin starts to crisp and turn dark brown, about 15 minutes. Remove from the heat.Preheat the oven to 400 degrees F. Turn the breasts over so that they are meat-side down. Brush the skin, now facing up, with about 1 tablespoon of the honey. Place the pan in the oven and roast for 7 minutes (for medium-rare).

When done, remove the breasts from the pan, place on a cutting board, and let rest for 10 to 15 minutes.  Meanwhile, in another pan, heat the butter and vegetable oil over medium-high heat until the butter is melted. Add the apples and sugar and cook, stirring often, until they start to brown, or caramelize, about 10 minutes. Lower the heat and continue to cook until the slices soften, making sure the sugar does not burn.In a third pan, heat the remaining 2 tablespoons olive oil over medium-high heat until it ripples.

Slowly add the spinach and stir until it starts to wilt, 3 to 5 minutes. Season with salt and pepper to taste. Divide the spinach evenly among 4 dinner plates.

Thinly slice 1 duck breast, and place the slices on a dinner plate, fanning them out in a semicircle around the mound of spinach. Repeat with the remaining breasts.

Divide the apple mixture evenly among the plates, arranging most on the opposite side of the spinach from the duck and a few on top of the spinach.