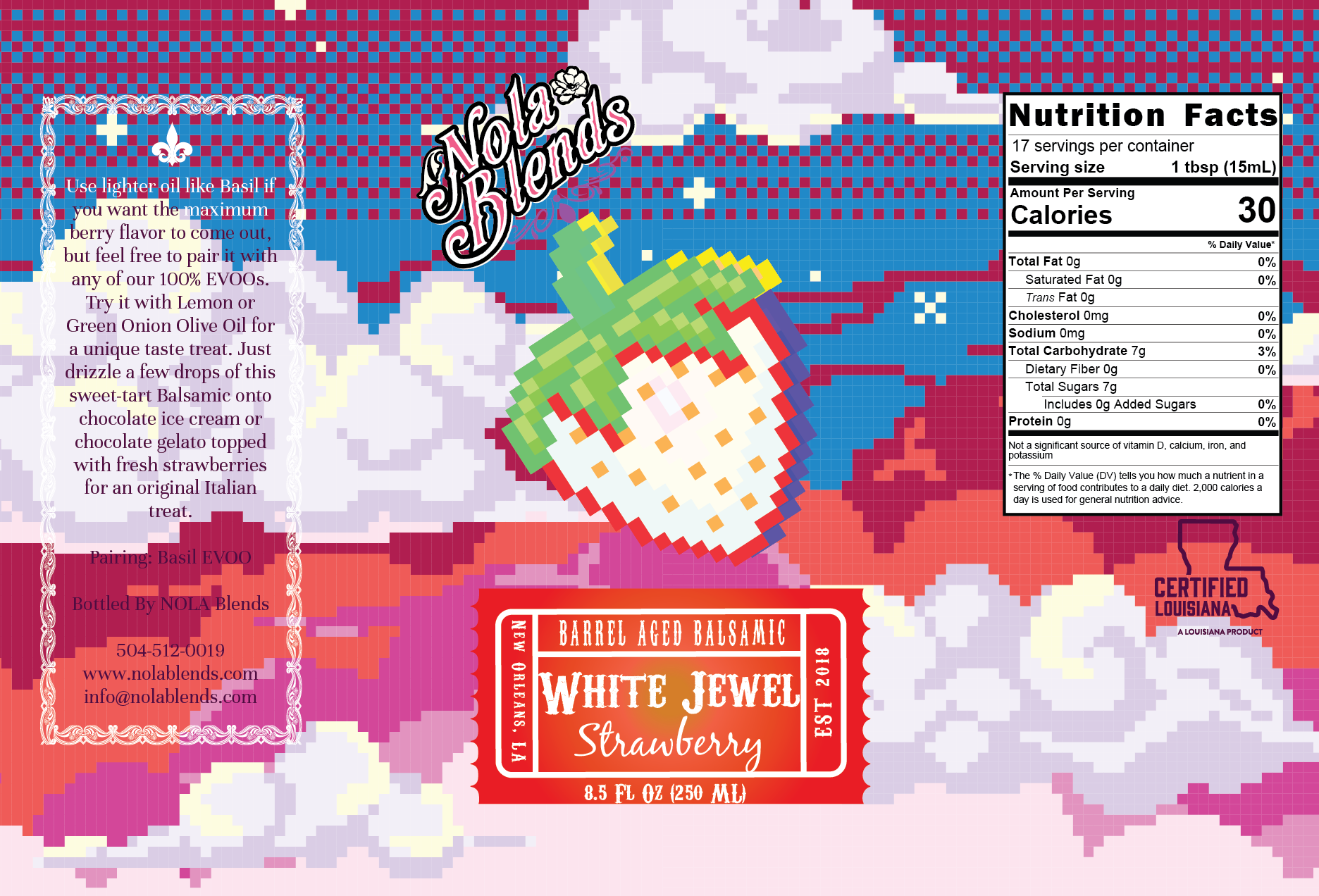 250ml (8.5oz) - Vegan, Non-GMO, Gluten-Free, Dairy-Free, Soy Free
Product Description: 
While we adore our everyday infusions, we are constantly searching for new fruits that excite our taste senses. We learned that a black garlic makes a phenomenal balsamic and that white cherries are also excellent!
Now that it's strawberry season, we're all looking for perfect red, ripe strawberries with no patches of green or white. But a white strawberry might not always be an unripe berry—here's why.
It is an exclusive variety of strawberry plant. The fruit is typically a little larger than its red-colored counterpart and has white skin with crimson seeds. White strawberries are engineered to be sweeter and softer than regular strawberries despite their light color. Although there are over 50 different types of these white strawberries, Yasuhito Teshima's White Jewel variety, which he created at his Japanese farm, is the most well-known.
Use a lighter oil like Basil if you want the maximum berry flavor to come out, but feel free to pair it with any of our 100% EVOOs. Try it with Meyer Lemon or Tandoori Oil for a unique taste treat. Just drizzle a few drops of this sweet-tart Balsamic onto chocolate ice cream or chocolate gelato topped with fresh strawberries for an original Italian treat. 
It's also sweet enough to use as a syrup in fruit salads or as a low-calorie flavoring for iced tea and water. 
Used in sauces, marinades, salad dressing, & desserts
Rich sweet flavor
Wonderful in quinoa salads, fruity spinach salads or even on ice cream!
Storage:
Store in a cool, dry place away from heat and oxidizers.
Mix well before each use.
Shelf Life:
Shelf life is 12 months from date of production. NOLA Blends guarantees a minimum of 12 months from date of shipment..
Applications For Product:
Pair it up everything, it will be the little black dress of your kitchen! Product suitable to every kind of consumer, to use without any further manufacture and particularly suitable to fresh and boiled vegetables, on boiled foods, to make sauces, in the dressing of meat and fish.
Country of Origin:
Flavored in the USA with Imported Italian Vinegar.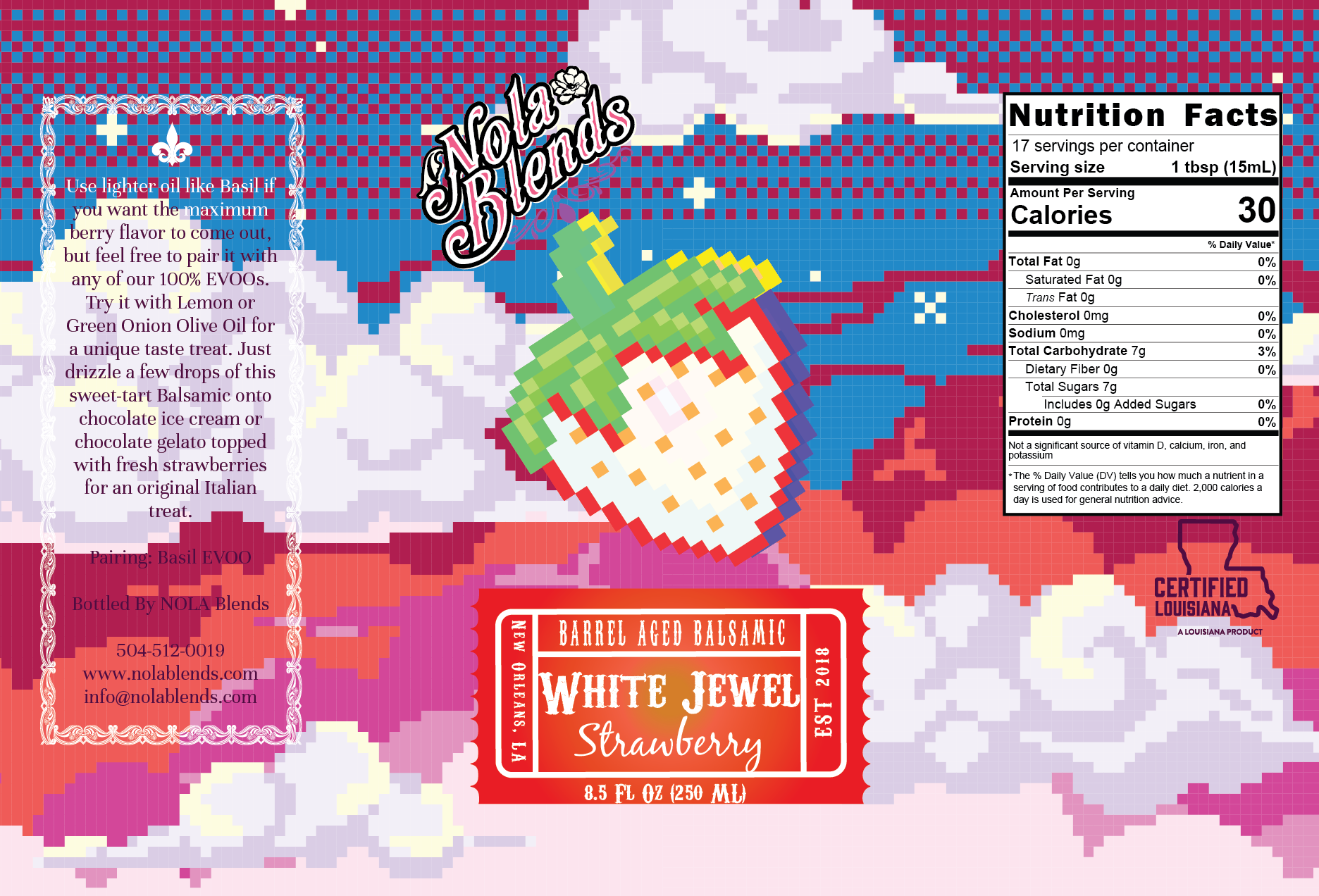 White Jewel Strawberry - Infused White Balsamic Vinegar
Sale price

$20.00
Regular price
Choose options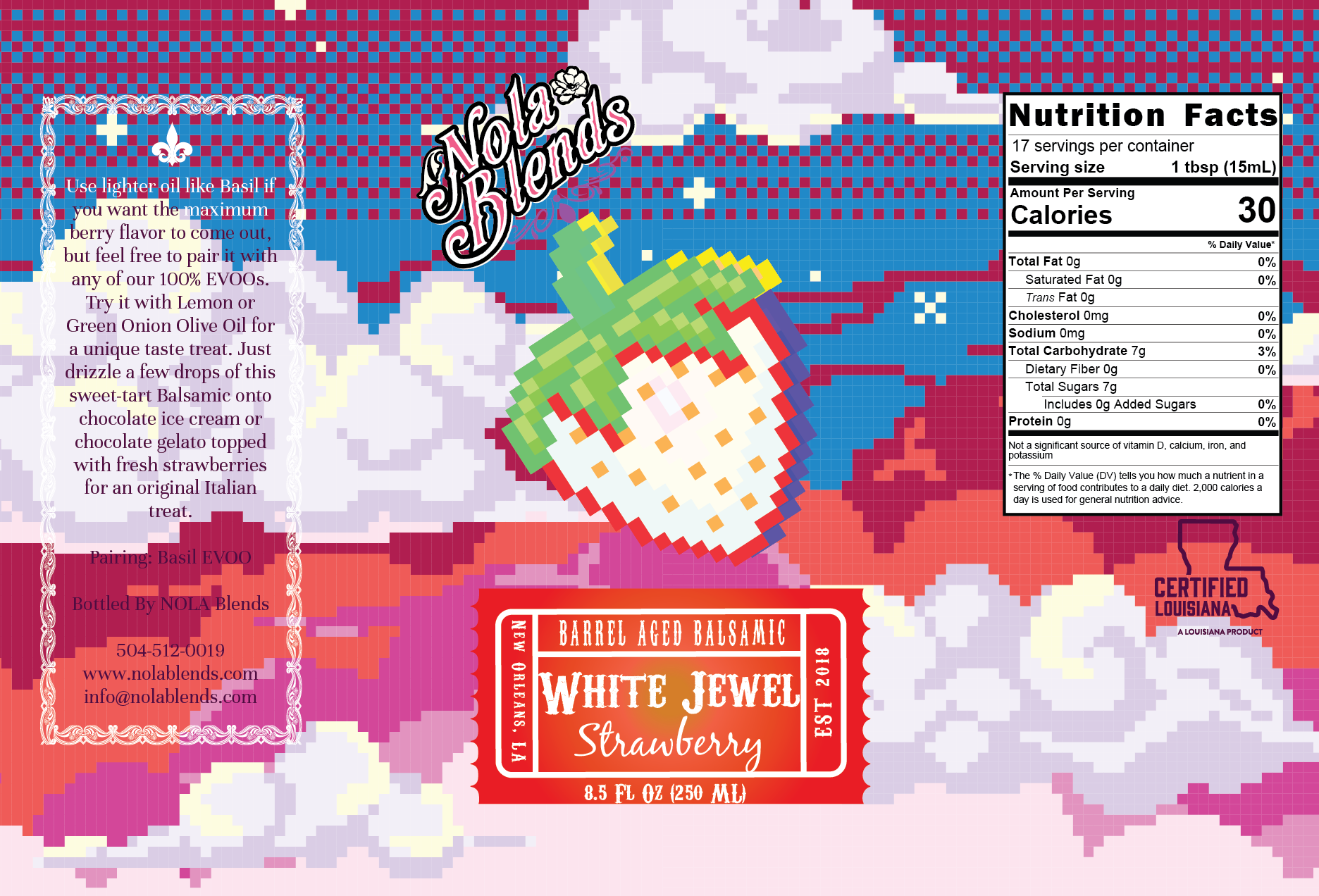 Fantastic Flavor
This is one of the finest examples of infused Balsamic Vinegar you will ever try. I highly recommend the White Jewel Strawberry.
Fantastic!!
One of my favorites!! You will not be disappointed!!!