Article: Grilled Chicken with NOLA Blends Pineapple Balsamic Glaze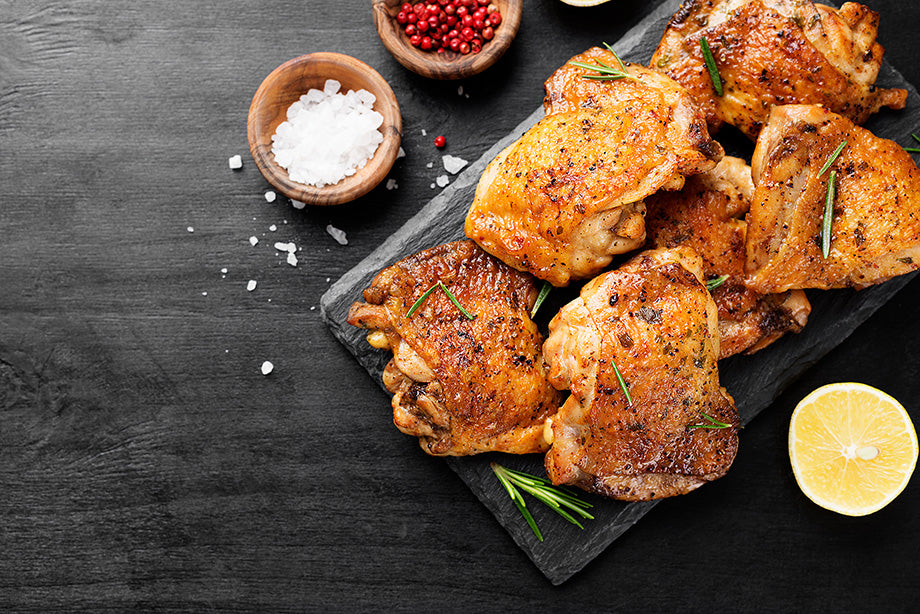 Grilled Chicken with NOLA Blends Pineapple Balsamic Glaze
This simple lick-your-fingers, chicken is perfect for a small cookout. The Pineapple glaze has just the right amount of sweetness and can be made ahead. You'll want mix of thighs, drumsticks, and breasts you'll need, buy two whole chickens and cut them into parts yourself, or you can look in your butcher's display case for bone-in parts that are about the same size—legs about 5 oz. each, thighs about 6 oz., and breast halves a little more than a pound each.
Ingredients
3 Tbs. unsalted butter
1/2 tsp. crushed red pepper flakes (Double it up, If ya'll like dat spicy)
1/4 tsp. chopped fresh rosemary
Kosher salt
Vegetable oil or cooking spray for the grill
Two 4-lb. chickens, each cut into 8 pieces, or 5 to 6 lb. good-quality bone-in skin-on chicken thighs, drumsticks, and breasts, each breast half cut into two pieces
Freshly ground black pepper
NOTE: Depending if like a lite glaze (above) or "a lot of dat glaze" you can double the glaze recipe.
In a small saucepan, melt the butter over medium heat. Add the preserves, vinegar, red pepper flakes, rosemary, and a large pinch of salt; stir to combine. Bring to a medium boil, reduce the heat to low and simmer, stirring occasionally, until slightly thickened, 2 to 4 minutes. Remove from the heat and let cool to room temperature. (If making ahead, store covered in the refrigerator. Before using, warm over low heat to loosen the consistency.)

Prepare a medium gas or charcoal grill fire. Using a stiff wire brush, scrub the cooking grate thoroughly. Dip a folded paper towel into vegetable oil and, using tongs, rub it over the grill grate.

Season the chicken lightly with salt and pepper. Set the parts skin side down on the grill. Cook, covered, until the skin is golden brown, about 10 minutes. Stay near the grill, especially during the first 10 minutes, to manage any flare-ups, by moving pieces out of the way. If the chicken is browning too quickly, turn the heat down slightly or close the vents partially. Flip the chicken and cook until an instant-read thermometer reads 165°F in the thickest part of each piece, 5 to 10 minutes more. The thighs, legs, and thinner breast pieces are apt to cook a little faster than the thicker breast pieces. Transfer each piece to a platter when done and tent with foil.

When all the chicken is done, brush it with the glaze on all sides. Return the chicken to the grill and cook for another minute or so on each side to caramelize the glaze. Brush the chicken with any remaining glaze and serve.
Make Ahead Tips
The pineapple glaze can be made up to a day ahead and stored covered in the refrigerator. Before using, warm over low heat to loosen the consistency.