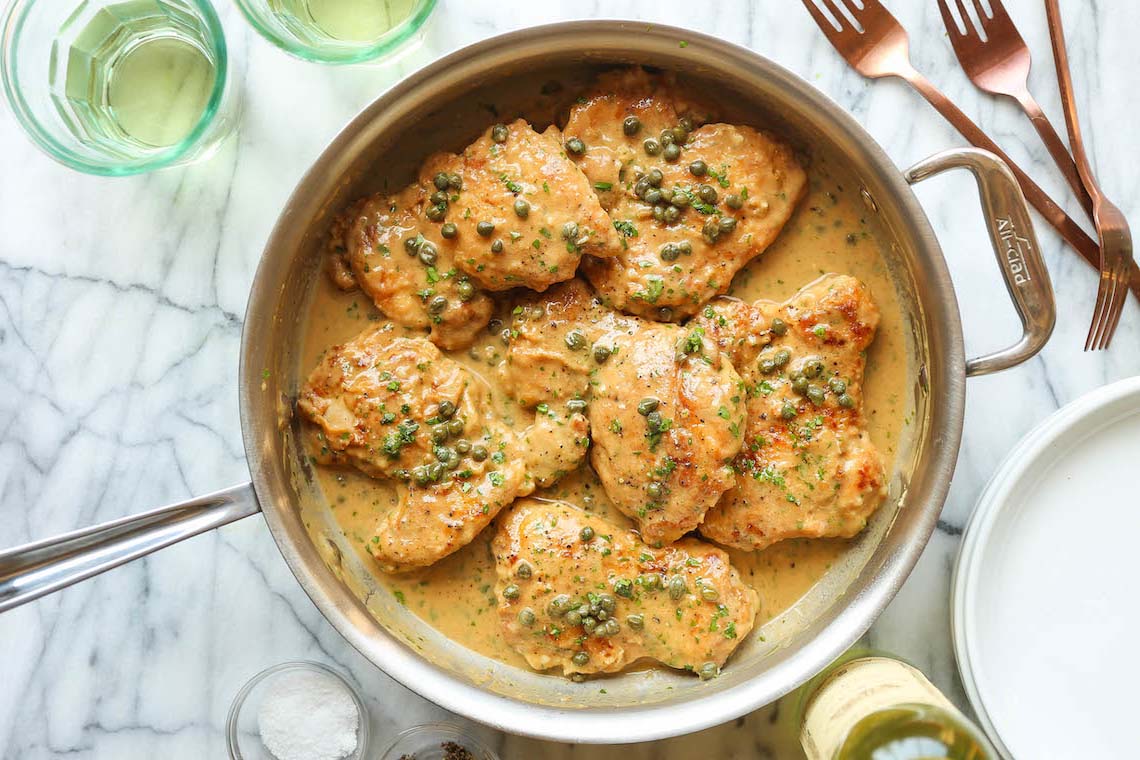 What's your favorite way to eat chicken piccata? Because I prefer mine extra-creamy. Then you have enough sauce for your vegetables, pasta, or crusty bread to soak up all the yummy parts.

That's exactly what we've got here. As I like to refer to it, it's extra-extra creamy. And, as you know, I like boneless, skinless chicken thighs, but for this you want white meat, chicken breasts butterflied and halved. There will still be plenty of saucy goodness to go around!
Ingredients
2

 

(10 - 11 oz. each)

 

chicken breasts,

 

butterflied and halved

1/3

 

cup

 

all-purpose flour

Salt and freshly ground black pepper

2 1/2

 

Tbsp.

 

NOLA Blends Meyer Lemon Olive Oil

1

 

Tbsp.

 

minced garlic

1 1/4

 

cups + 1 Tbsp.

 

low-sodium chicken broth

1 1/2

 

tsp

 

cornstarch

2

 

Tbsp.

 

fresh lemon juice

1

 

Tbsp.

 

butter

1/4

 

cup

 

heavy cream

3

 

Tbsp.

 

chopped fresh parsley

2

 

Tbsp.

 

capers,

 

rinsed
Instructions
After cutting chicken let it rest at room temperature 10 minutes. In a shallow dish whisk together flour, 1/4 tsp salt and 1/4 tsp pepper.

Heat olive oil in a 12-inch skillet over medium-high heat. Dredge both sides of chicken cutlets in flour mixture then add to skillet.

Sear chicken, without moving, until browned on bottom, about 4 - 5 minutes then flip chicken and cook opposite side until golden brown on bottom and chicken has cooked through (reducing burner temperature slightly as needed and tilting pan slightly to redistribute oil) about 4 - 5 minutes longer (chicken should register 165 degrees in center). Transfer chicken to a plate and keep warm.

Add garlic to remaining oil in pan (there should be about 1 tsp oil left if not just add a tsp), sauté just until slightly golden.

Pour in 1 1/4 cups chicken broth and bring to a boil, while scraping up browned bits from bottom of pan. Allow broth to simmer until reduced by half, about 4 - 5 minutes.

Whisk together remaining 1 Tbsp. chicken broth with cornstarch, then pour mixture into broth in skillet along with lemon juice. Allow to simmer until thickened slightly then remove from heat.

Stir in butter and pour in cream. Season with salt if needed and pepper.

Return chicken to skillet. Spoon sauce over chicken, sprinkle with capers and parsley. Serve warm.
PRO TIP: Serve with fettuccine pasta (linguine or spaghetti) or garlic mashed potatoes!