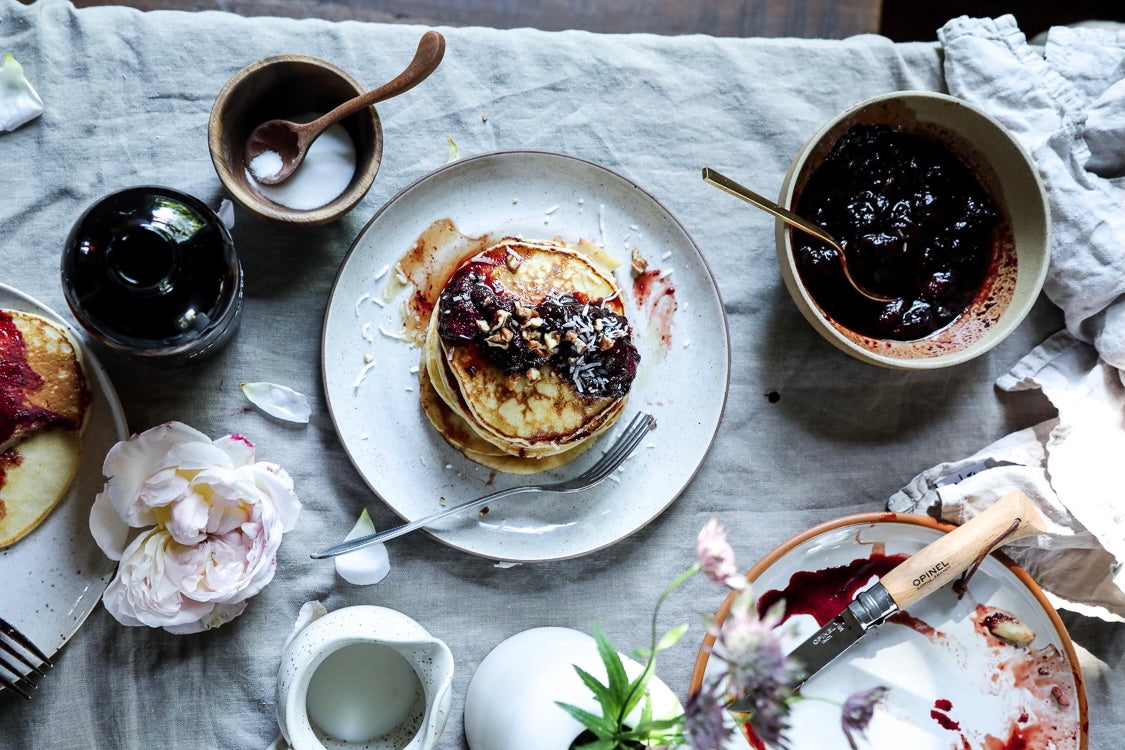 Pancakes with Strawberry Balsamic Compote
| | | | |
| --- | --- | --- | --- |
| Prep Time | 30 min | Course | Breakfast, Dinner |
| Cook Time | 30 min | Servings | 3-4 |
Last week I got the urge to make something different from breakfast pancakes: evening pancakes!  Pancakes for dinner are technically the same thing lol, but the novelty of them makes them far more appealing. Around 6 p.m., I whipped up a large batch, and we sat down at the nice table and devoured them. A sweet balsamic-strawberry compote drizzled over the top completed the dish. We also added some chopped pecans and shredded coconut for some more flavor, and it was fantastic!
Ingredients:
Strawberry Compote (You can substitute for blackberry or fig for example and use any of our infused balsamic for this recipe)
Pancakes
1 cup all-purpose flour
1 tbsp granulated sugar
1 tsp baking powder
1/2 tsp salt
2 tbsp unsalted butter, melted
3 large eggs
1 cup + 2 tbsp milk
1/2 tsp vanilla
butter for frying
toppings
chopped pecans
shredded coconut
maple syrup
Directions:
…for the compote
In a small saucepan, bring the balsamic vinegar to a low simmer.
Immediately add the maple syrup, lemon juice, and strawberries and combine.
Reduce the heat to low and simmer until the strawberries are soft, stirring often. With the back of a spoon, smash them against the side of the pan until you have a thick jam-like texture. Remove from the heat and let cool. Store in the fridge for up to a week.
…for the pancakes
Combine the flour, sugar, baking powder, and salt in a bowl. In a separate bowl, combine the butter, eggs, milk, and vanilla with a whisk. Add the wet ingredients to the dry and combine.
Heat a non-stick frying pan over medium-high heat.
Place a small dab of butter in the pan. Once the butter begins to sizzle, ladle the pancake batter into the pan using a 1/4 cup measure. Tiny pin sized bubbles will quickly begin to form on top of the pancakes. Once the bubbles start to get a bit bigger, flip the pancake and cook on the other side for only 15 seconds. Place a small dab of butter in the pan before cooking each batch.
Keep warm in the oven until ready to serve.
Top the pancakes with balsamic strawberries, chopped pecans, and coconut. Drizzle with maple syrup. Enjoy!
Balsamic
This rustic Caprese Pizza cooked from scratch is the ideal meal. It's packed with flavor and allows you to use up fresh farmers market tomatoes and basil from your own herb garden! While ordering ...
Read more